Witness Music was founded in 2011 by Garin Hess, primarily for the purpose of performing
Rob Gardner's "Lamb of God" annually each spring.

Witness Music's annual performances of "Lamb of God" are the longest running
presentations of that music in the state of Utah, and possibly anywhere.
Note: See also our "History" page for more details about organizational changes and other details.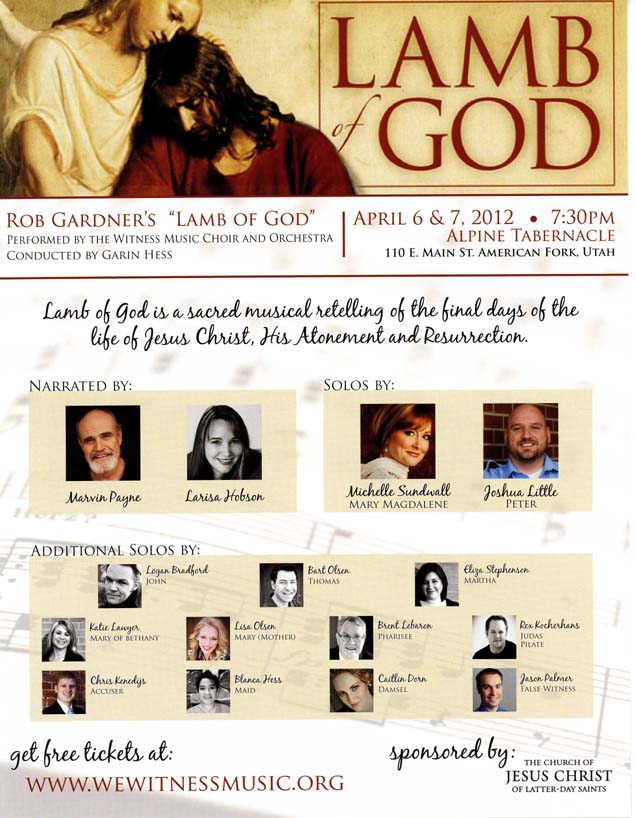 The first performances were held at the Alpine Tabernacle in American Fork, Utah on April 6 and 7, 2012. The dress rehearsal on April 5 was also opened up to the public due to demand. All concerts were well attended. Garin Hess conducted the choir and orchestra.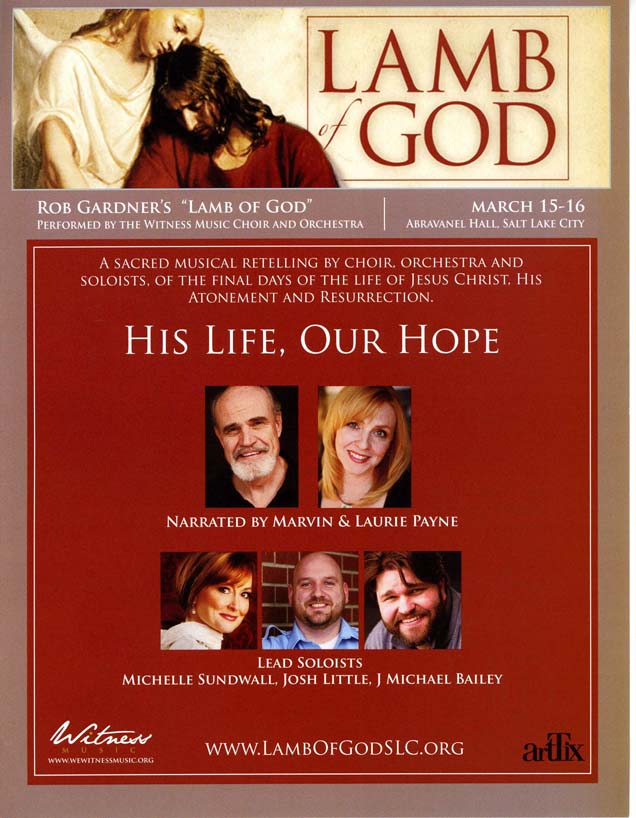 In 2013 the performances were held at Abravanel Hall in Salt Lake City on March 15 and 16. This is a spectacular hall for performing, and we were pleased to have a substantial and very appreciative audience for three performances.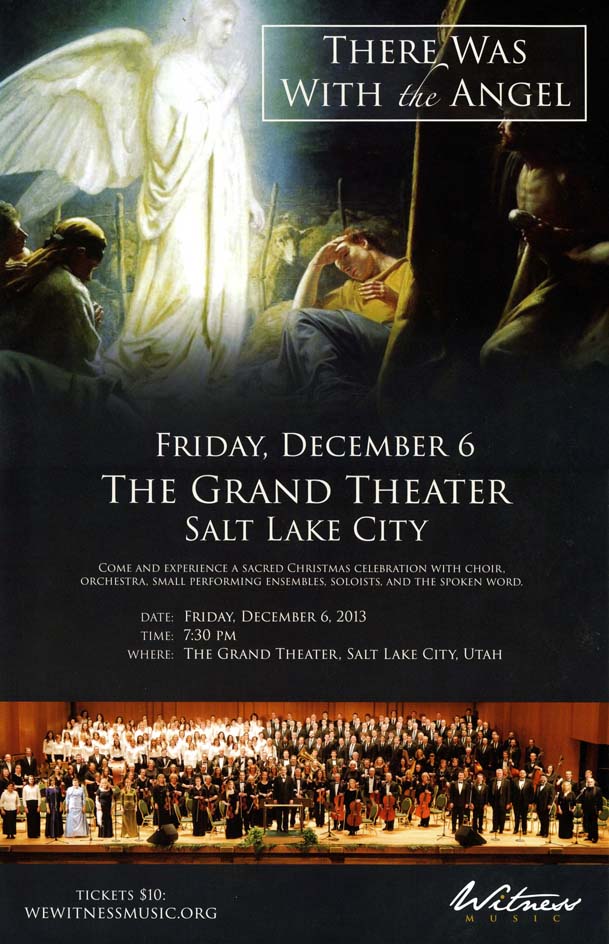 A new addition for 2013 was the Christmas Concert, There Was With the Angel, held at the Grand Theater in Salt Lake City on December 6. It was a wonderful experience for all involved, one we hope to continue in the future.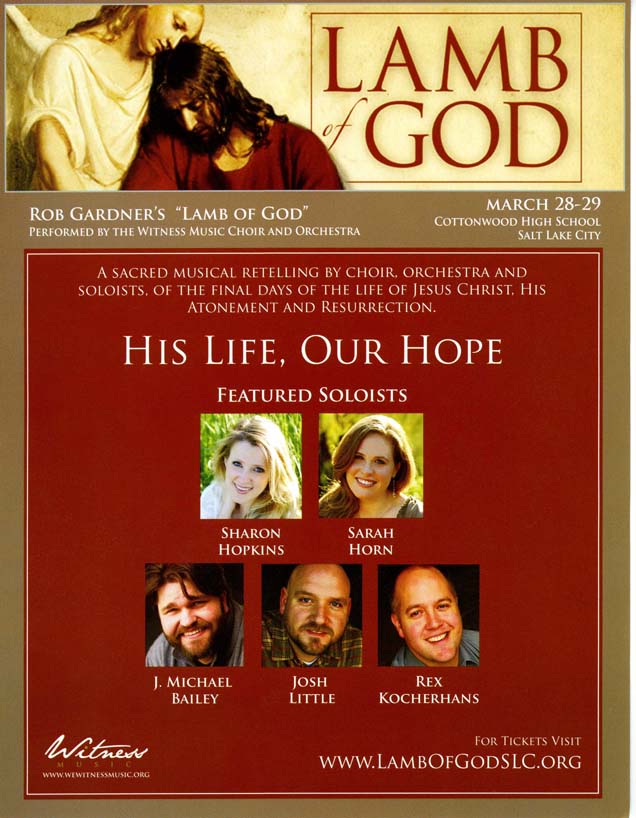 The 2014 performances of Lamb of God were held in the very large auditorium at Cottonwood High School in Salt Lake City on March 28 and 29. As at Abravanel Hall, we held a Friday night performance, a Saturday matinee and a Saturday night performance.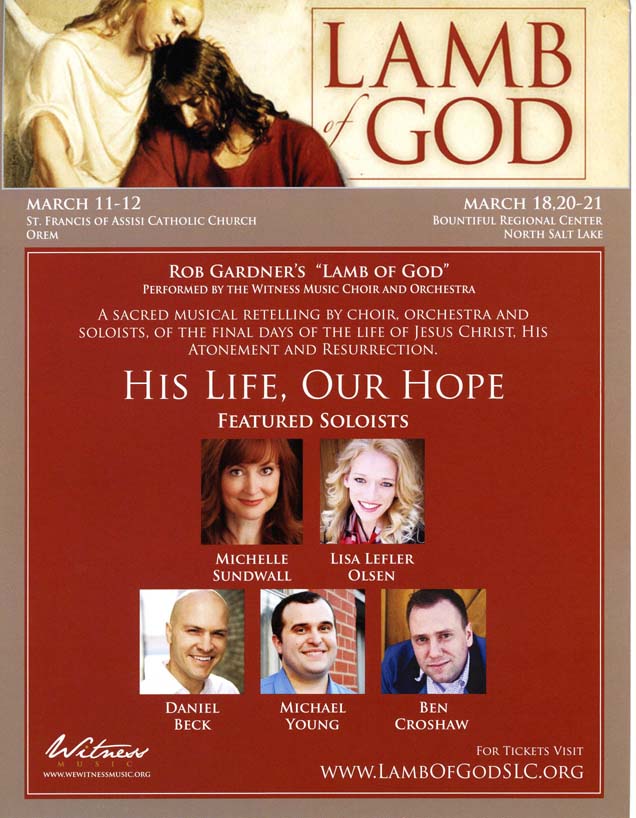 Instead of one venue, in 2015 there were performances in two locations, in Orem and in North Salt Lake. March 11 and 12 performances were held at St Francis of Assisi Catholic Church in Orem, Utah. On March 18 a special performance for youth groups was held at the Bountiful Regional Center in North Salt Lake, followed by a Friday night performance March 20, a matinee and evening performance March 21.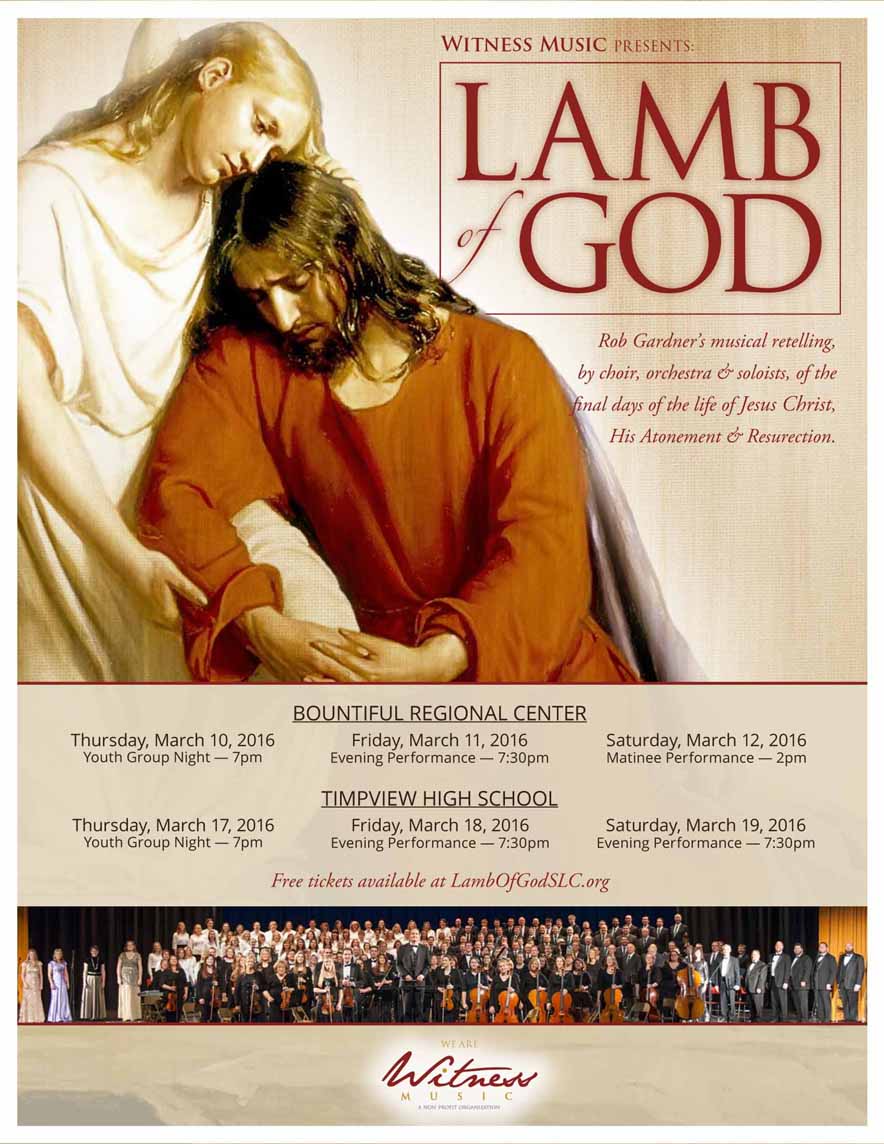 Lamb of God 2016 was again presented at Bountiful Regional Center for three performances, then at Timpview High School in Provo for another three performances. The six performances together resulted in our largest audiences to date for this wonderful event.

In April 2016 a small choir from Witness Music performed Lamb of God for inmates at the Utah State Prison in Draper, our second consecutive year of having this privilege. Our performance at the prison is a powerful experience for both the performers and the audiences.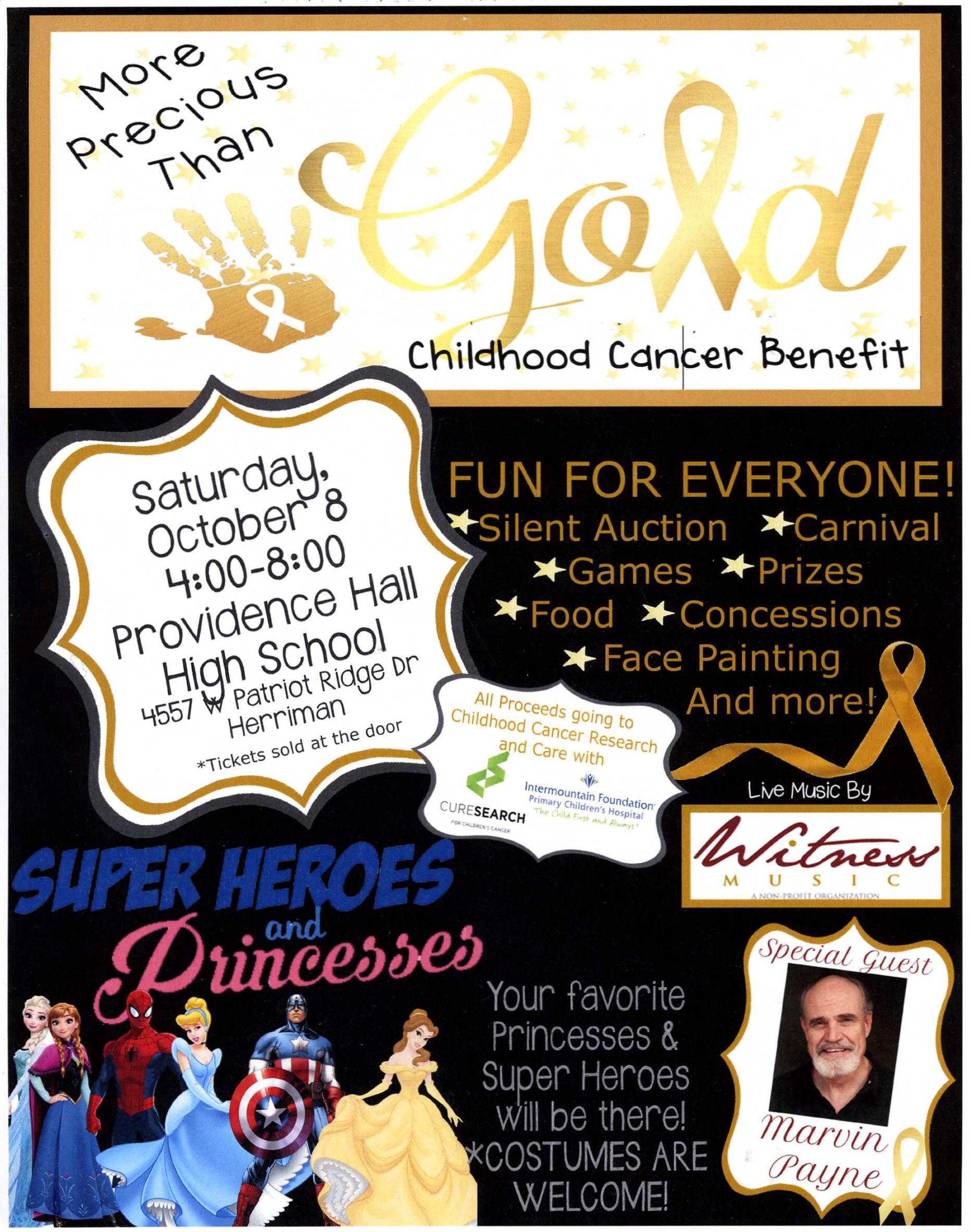 During the summer of 2016 we created a smaller choir called Samaritan Chorus that performed at several events. On July 4 they performed at the American Fork Amphitheater with Ryan Shuppe and His Rubberband for a patriotic concert. They also did a short performance for residents at Valor House, a housing facility for veterans.

In October 2016 Samaritan Chorus combined with Providence Hall High School in Herriman to hold a Childhood Cancer Benefit. Our choir sang and helped in other ways as volunteers at the event.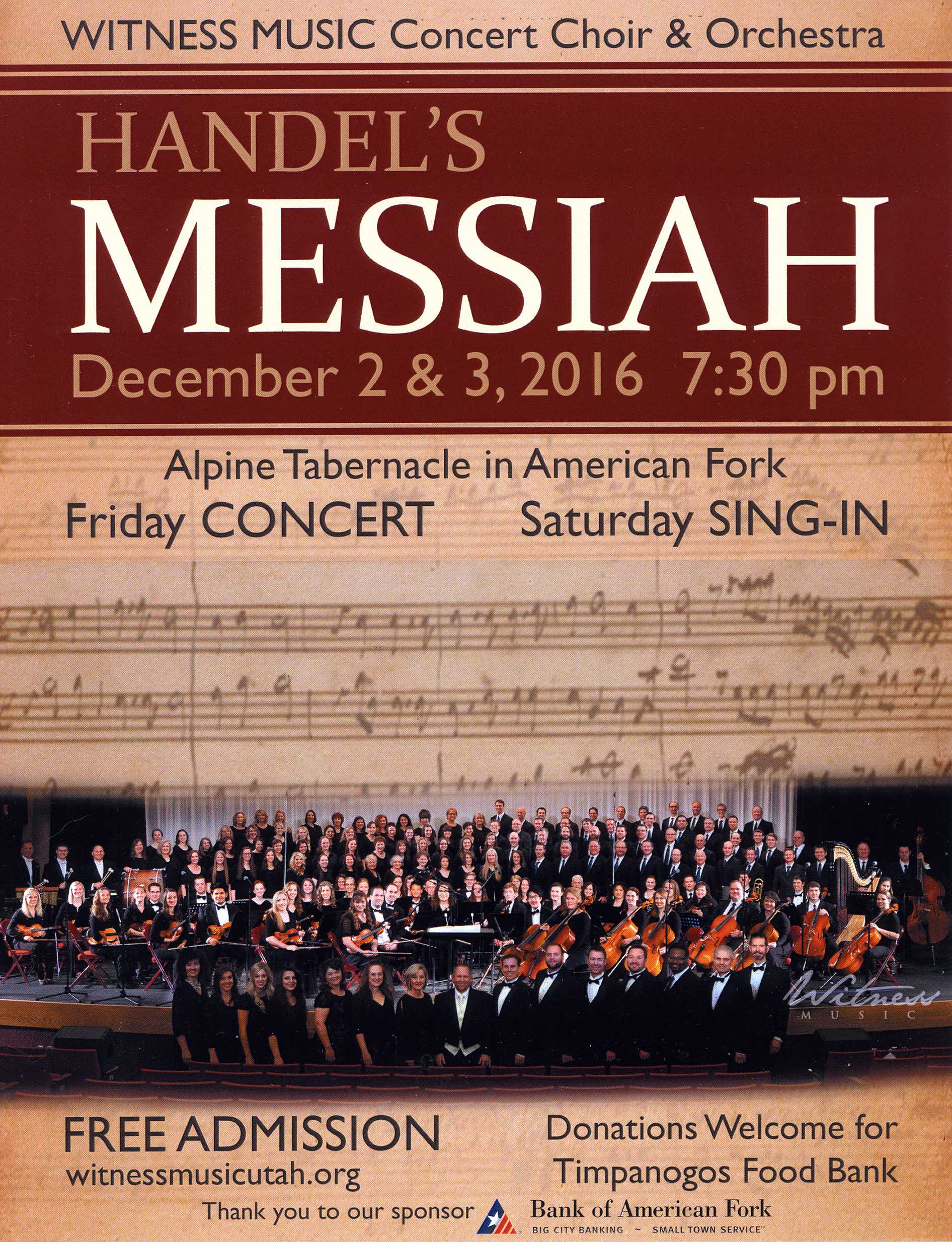 In December 2016 our full choir and orchestra presented Handel's "Messiah" at the Alpine Tabernacle in American Fork.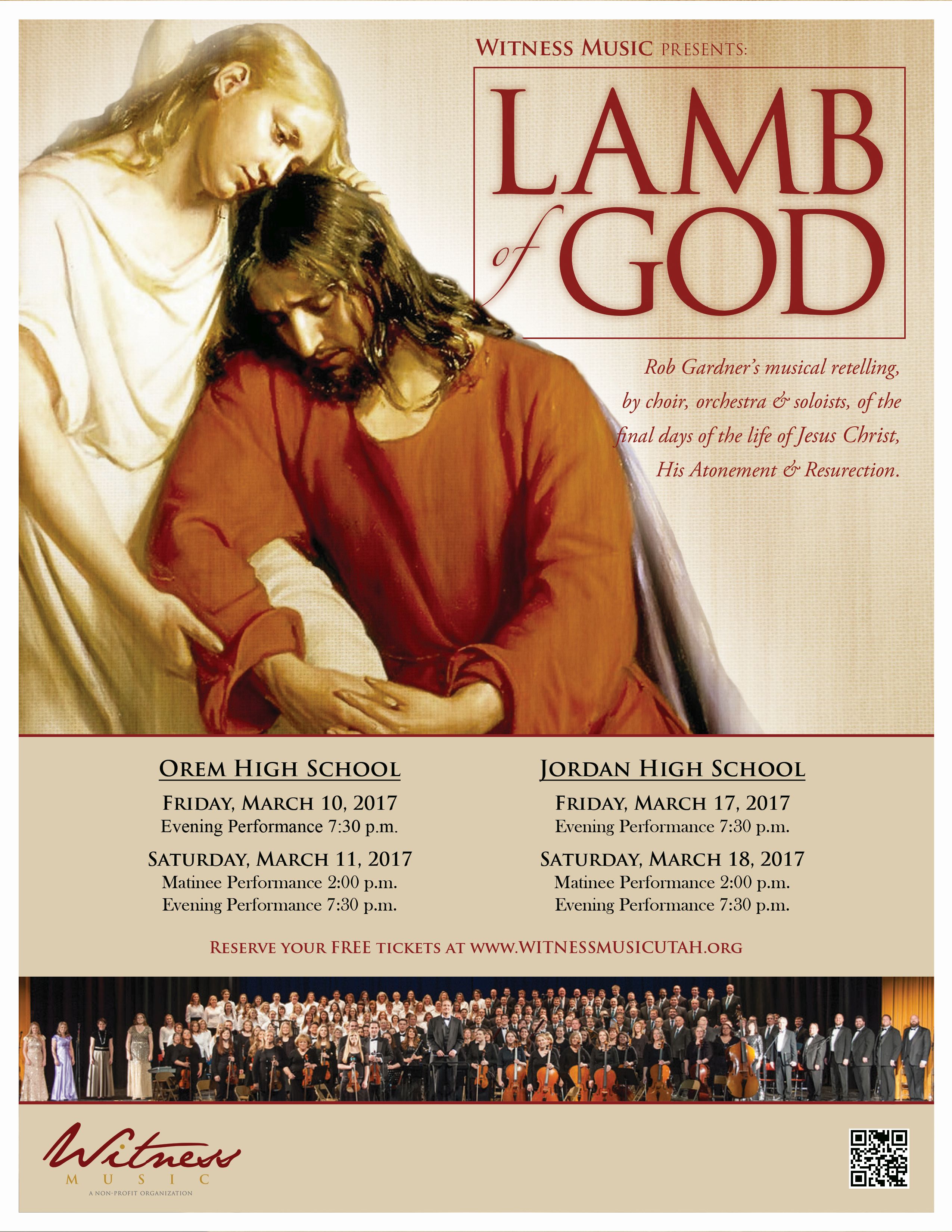 Our 2017 performances were at Orem High School and Jordan High School.

We were again able to have a small choir perform Lamb of God at the Utah State Prison in Draper.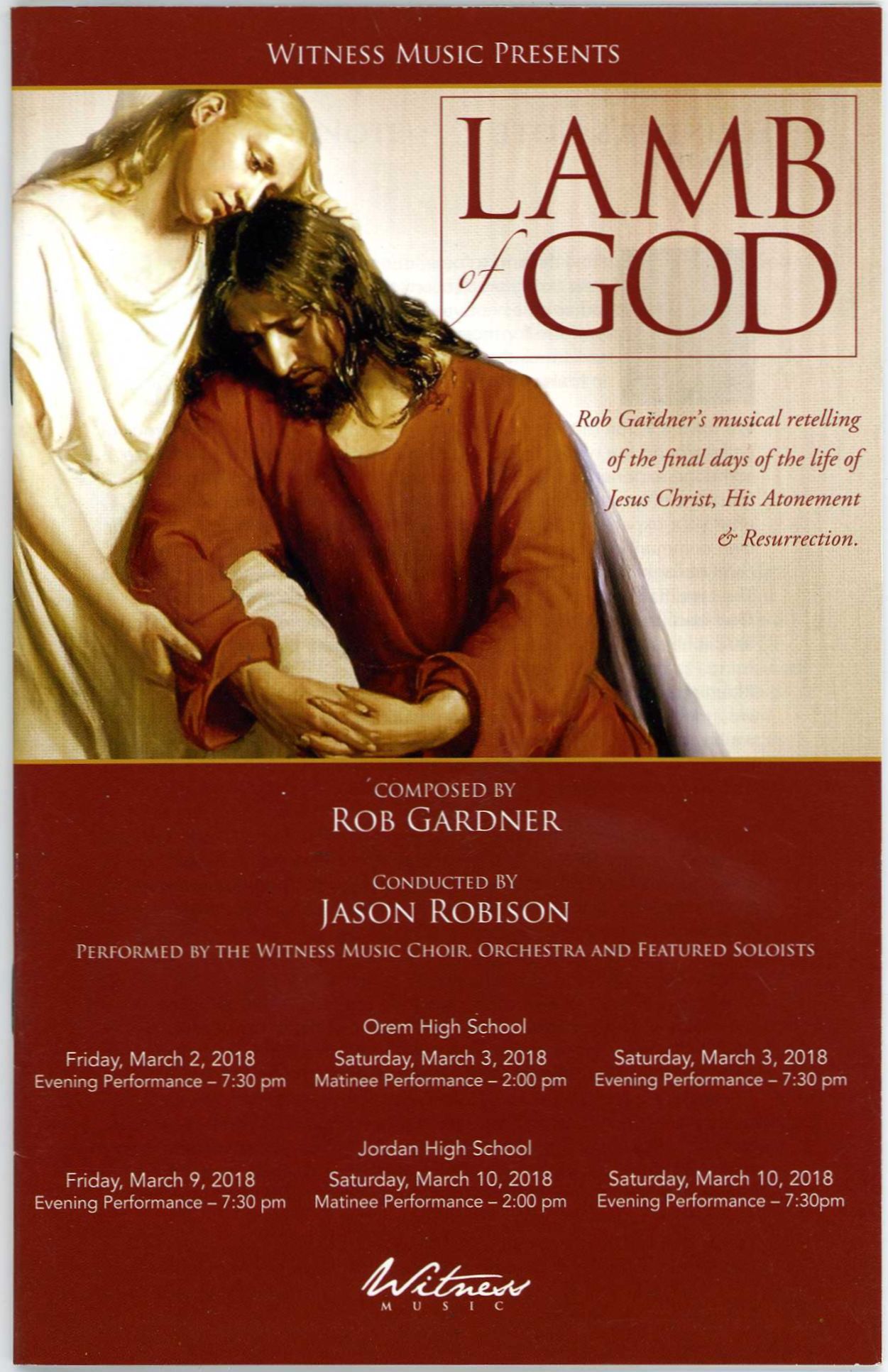 In 2018 we again performed Lamb of God at Orem High School and Jordan High School.

Our small choir performed again at the Utah State Prison, and for the first time we were able to have a choir perform Lamb of God at the Missionary Training Center in Provo.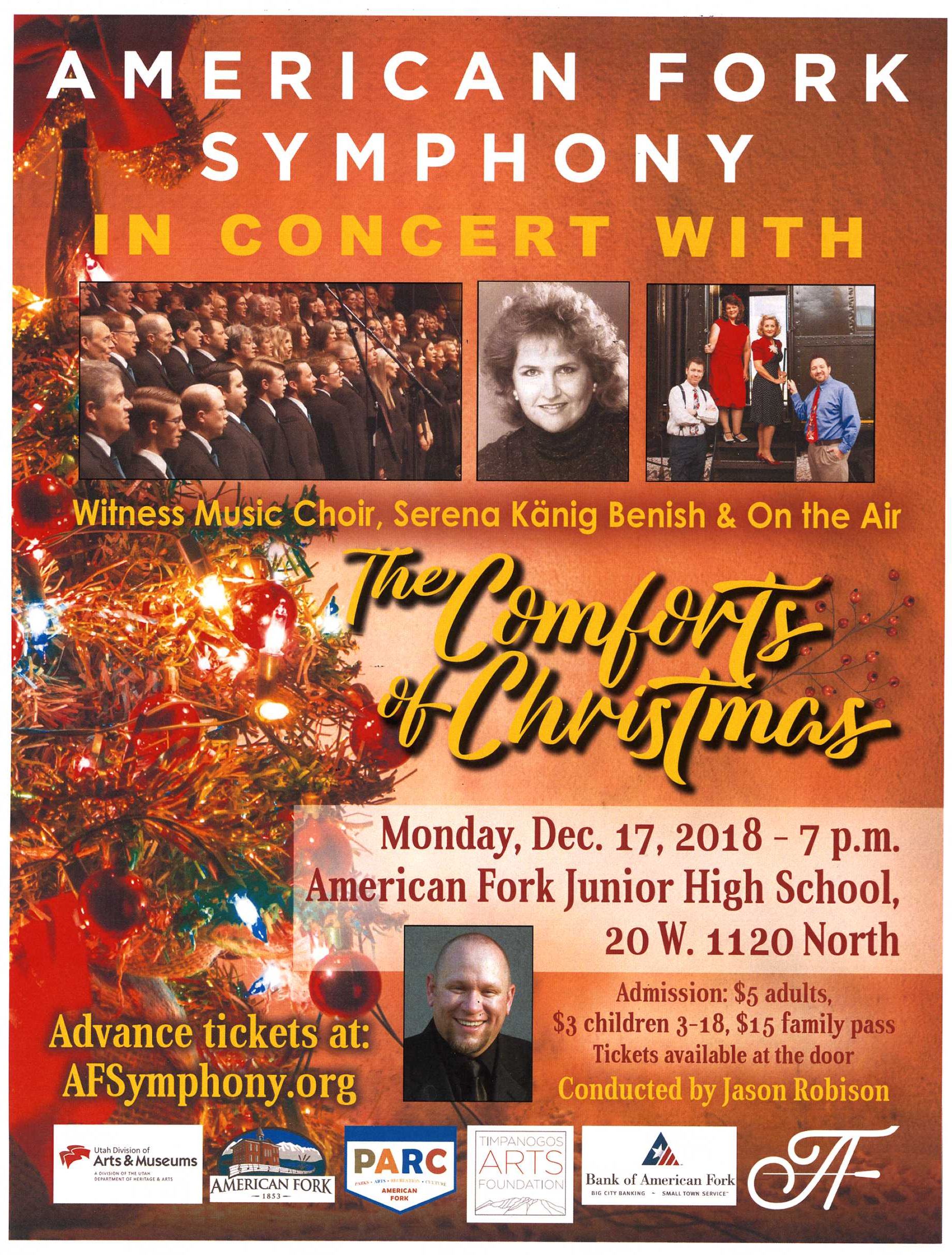 Also in 2018 we were able to join with American Fork Symphony as guess performers for their annual Christmas Concert.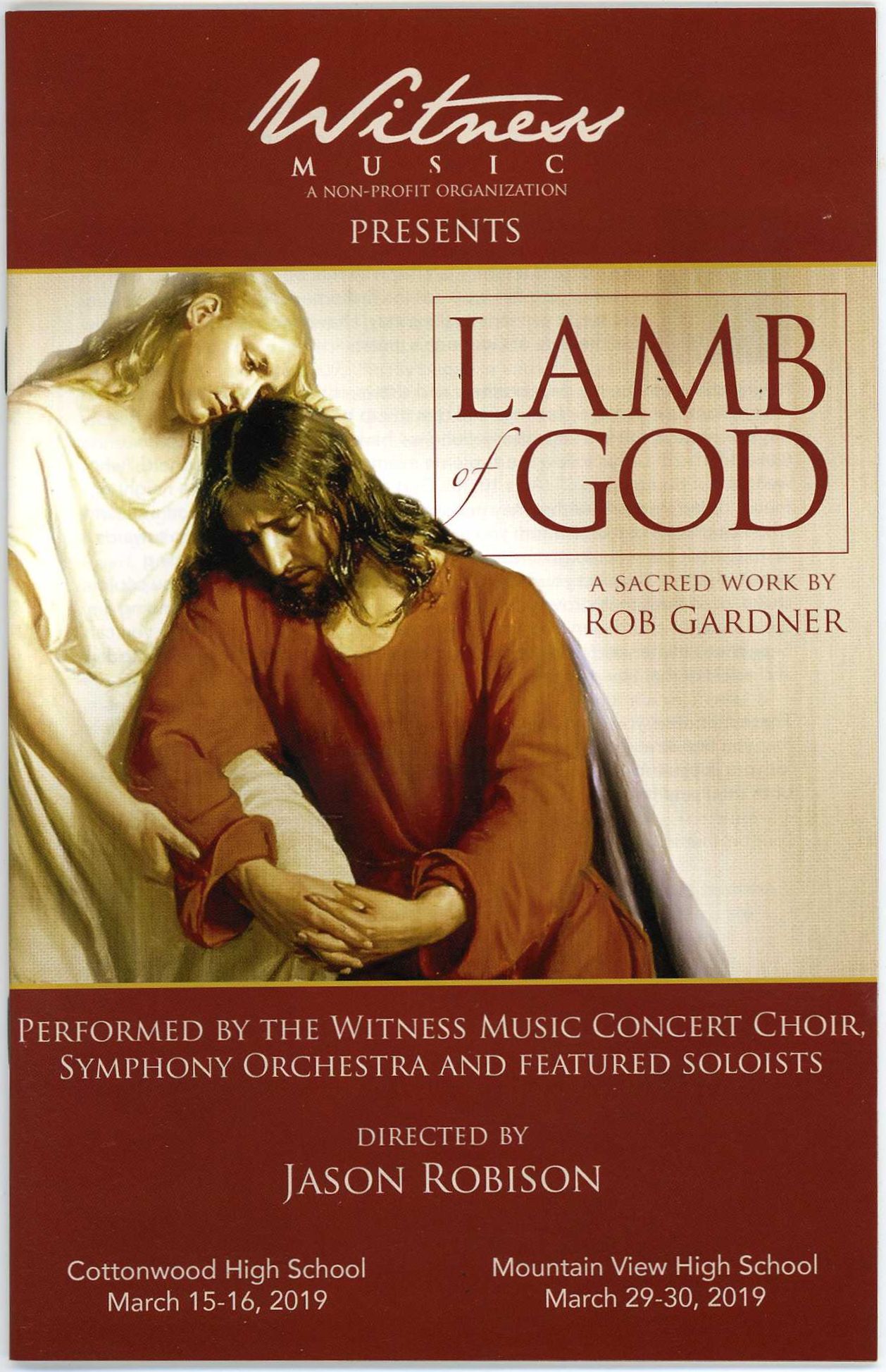 For 2019's Lamb of God performances we returned to Cottonwood High School and had our first performances at Mountain View High School in Orem.

Again we had our performances at the Prison and the MTC in Provo.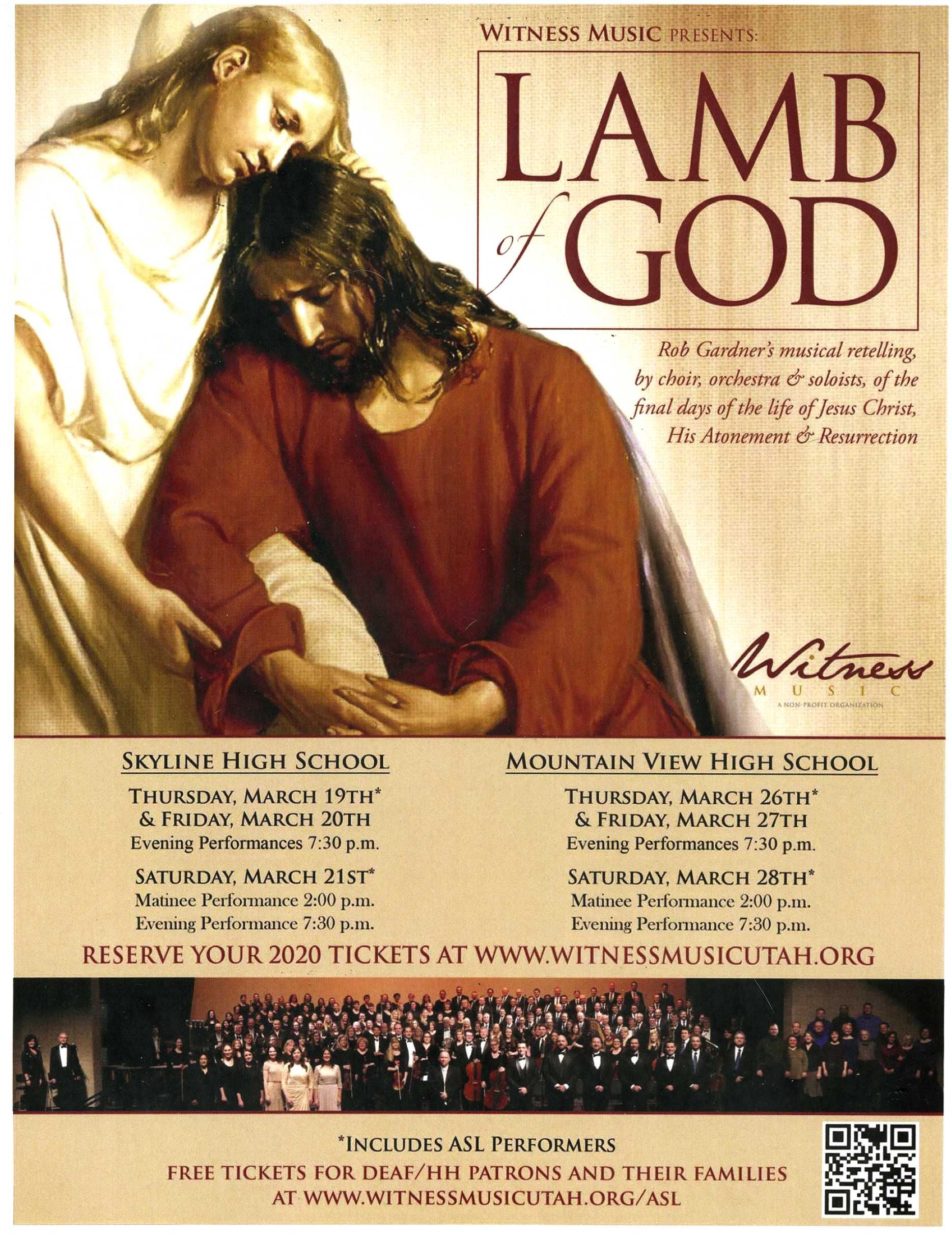 2020 was the year of the Covid-19 Pandemic. We had been rehearsing since January, but just a week before our scheduled performances at Skyline High School and Mountain View High School, the governor announced that there should be no more public gatherings. So, sadly, we cancelled all of our performances. It was especially tough on our performers since they had done all the work of preparing for months.

In 2021 we could see that conditions had not yet improved enough for us to be certain to perform. So we cancelled everything for the season.





Gratefully, in 2022 we were able to cautiously return to performing Lamb of God. It was an act of faith in the fall of 2021 to schedule the venue and start auditioning soloists, but fortunately everything went well. This was our first season performing with Shane Mickelsen as our conductor.

Due to conditions created by the pandemic and State Prison's move to a new location, we were unable to perform there. However, we did perform at the Provo Missionary Training Center again in 2022.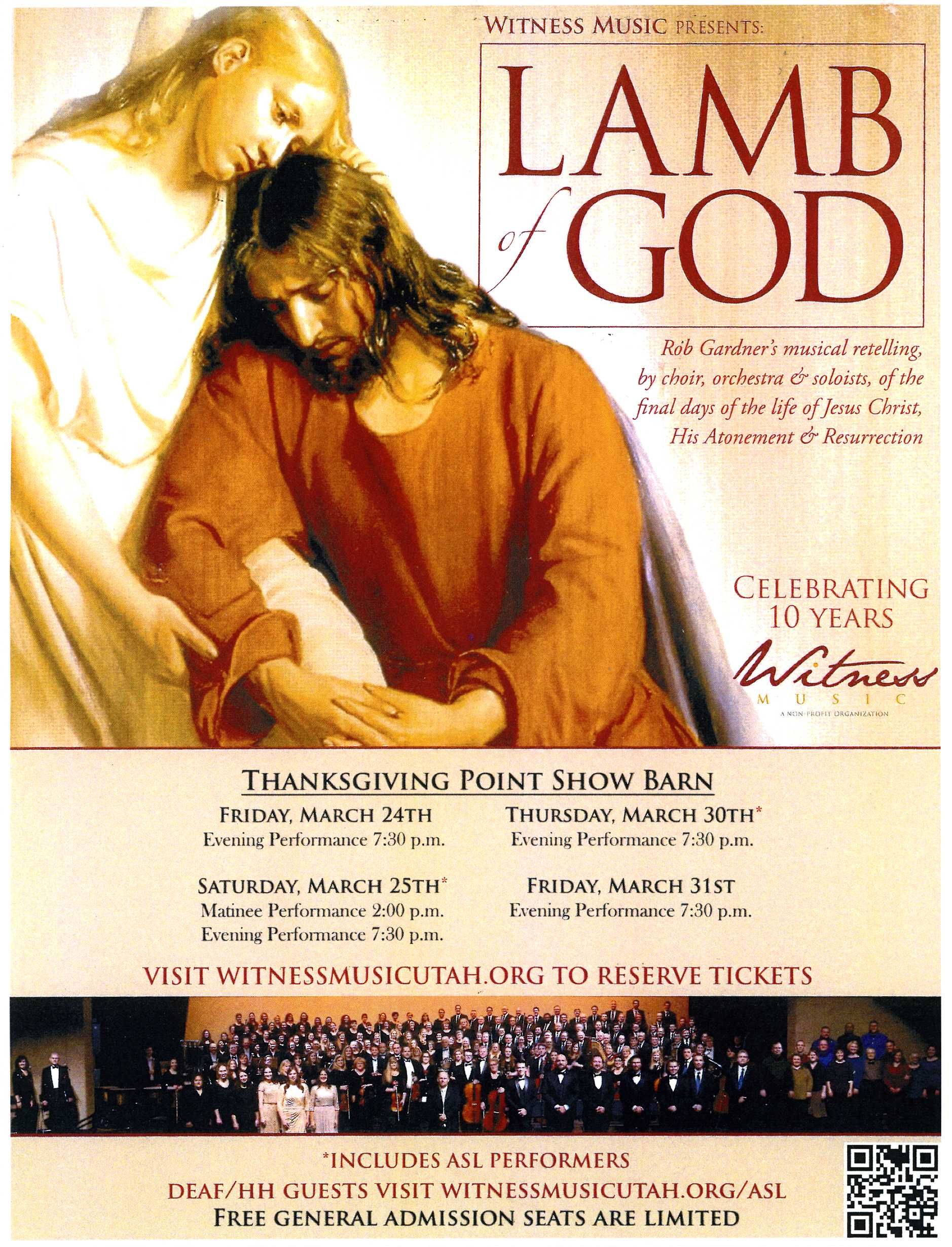 In 2023 we had some difficulty scheduling our usual high school auditoriums. So thinking outside the box we decided to do all of our performances at Thanksgiving Point in Lehi. It turned out to be a great event, with performances to capacity crowds.

We also performed in 2023 at the Provo Missionary Training Center.