Witness Music Newsletter
Fall 2016

Handel's Messiah Performance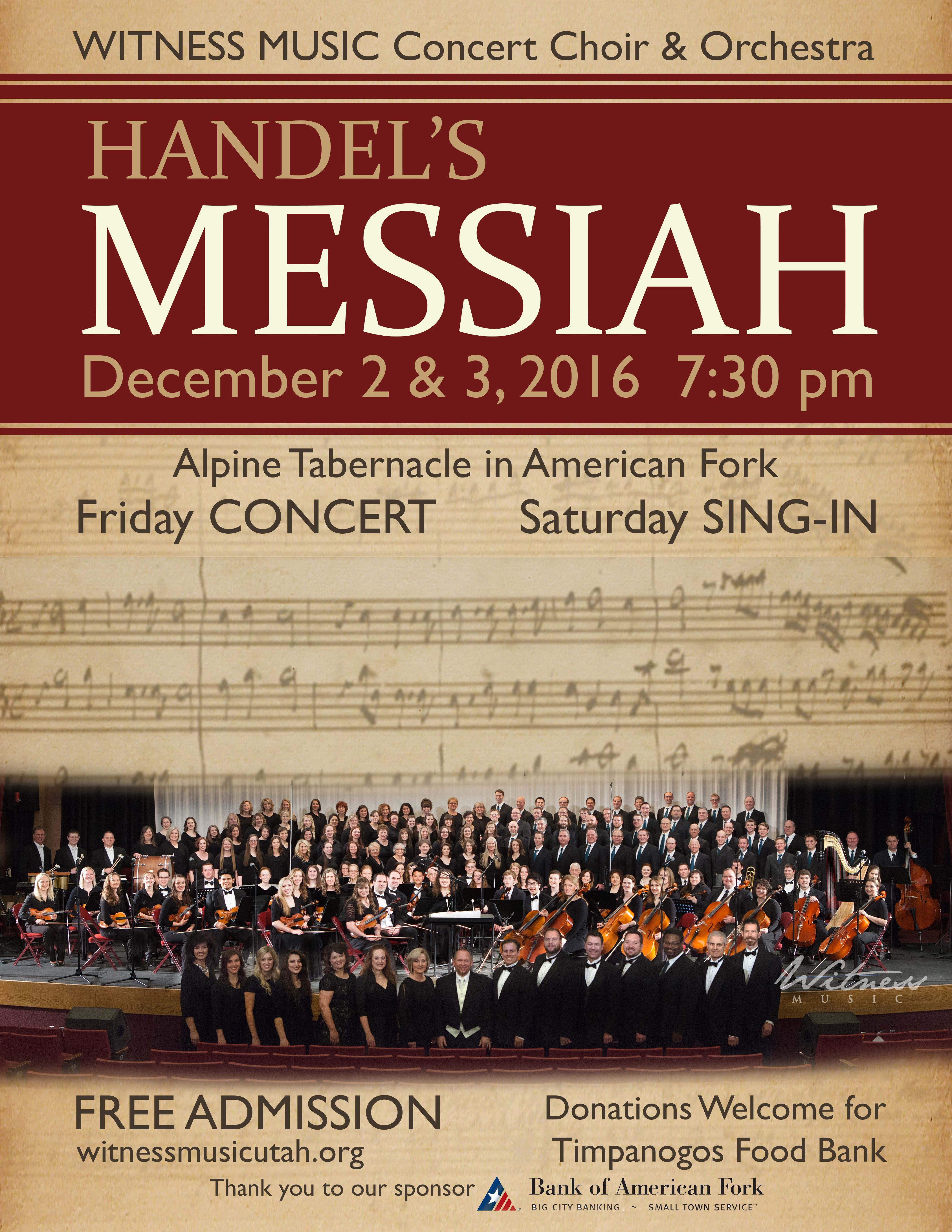 The Witness Music Concert Choir and Orchestra are now in rehearsals for our December performances of Handel's Messiah. There will be two performances, both at the Alpine Tabernacle in American Fork, Utah. On Friday night, December 2, 2016, we will present a performance at 7:30 pm. Then on Saturday, December 3 at 7:30 pm we will perform Messiah again, but this time as a sing-along. So if you would like to just listen without singing, come Friday night. If you would like to bring your score and sing with us, join us Saturday night.

Both performances are free admission, but we encourage you to consider bringing canned food to donate to the Community Action Services Food Bank in Provo (http://communityactionprovo.org). There will be no ticketing for this event, and it's all general admission, so plan to come early for the best seats. Doors open at 6:30. We would like to thank Bank of American Fork for their generous sponsorship that helps make this event possible.

Festival of Trees
Now in it's 46th year, Festival of Trees has become a Christmas tradition for many in our area. This year Witness Music has decided to sponsor a tree at the festival. Trees are auctioned at the festival to raise funds for Primary Children's Hospital. The festival takes place November 30 through December 3 at South Towne Expo Center in Sandy. We hope you will consider attending.


Our tree this year is in memory of Leah Bartlett. Leah was born in September 2014. She was the 6th child of Nate and Rebecca Bartlett's. Her four older brothers were happy to have her join the family, but it was her big sister, Kate who was thrilled to finally get the baby sister she had been praying for! Leah seemed to be a normal healthy baby, but it was soon discovered that she lacked the usual newborn reflexes like, sucking, rooting, and crying. After about a month in the NICU she had a G-Tube placed so her feedings could be given right into her stomach and her family was able to bring her home! Unfortunately, Leah continued to have many health unknowns, including problems producing white blood cells which made her vulnerable to sickness. There were many ups and downs and a lot of hospital stays at Primary Children's before this beautiful little angel passed from this life into the next at only 9 months old. Her family misses her sweet spirit so much and are so grateful she is a part of their family forever!

Even if you can't attend the Festival of Trees, we would like to invite you to help us create this tree for Leah's family by making a tax-deductible donation to Witness Music toward the purchase and decoration of our tree. You can either mail us a check to the address below, or go to our website, make a donation there, and email the general manager to let him know that your donation is for Festival of Trees. The proceeds from the tree sale will go to Primary Children's Hospital.

Soloist Auditions for Lamb of God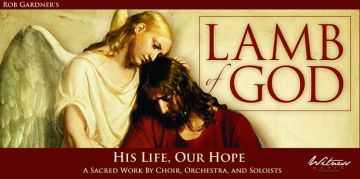 Auditions for soloist parts for our March 2017 performances of Lamb of God will be held in the coming weeks. If you or someone you know would be interested in auditioning, have them complete the application at http://www.wewitnessmusic.org/wmu-soloist-application/ and they will be contacted with all the details.

Lamb of God Venues and Dates Announced
Witness Music Utah has announced the dates and places for next spring's performances of Rob Gardner's "Lamb of God". The first performances will be at Orem High School on Friday, March 10 and Saturday, March 11. There will be a matinee and an evening performance on Saturday.

After two consecutive years of performing at the Bountiful Regional Center, we are excited to bring our performance to a different part of the Salt Lake Valley. This year we will perform at Jordan High School in Sandy on Friday, March 17 and Saturday, March 18 (with both a matinee and evening performance).
Ticket information and more details will be available after the first of the year, but we hope you will save these dates on your calendar.

To Subscribe to this Newsletter, see "Join Our Newsletter" in the column to the right.

Witness Music Utah
P.O. Box 970192, Orem, UT 84097